Communications and Policy Expertise for the Conservation Community and Outdoor Industry
With more than twenty years of experience in the natural resource and wildlife conservation field, including more than a decade in the nation's capital, Jodi Stemler Consulting has worked on legislative, grassroots, and media campaigns and managed events for some of the country's most respected and diverse conservation organizations. Whatever your organization's needs – from marketing to public relations to event planning and facilitation to comprehensive media and grassroots outreach campaigns that drive innovative policy – Jodi Stemler Consulting can help you realize your goals. Contact Jodi for wildlife policy consulting, conservation legislative strategy, and outdoor/sportsmen's policy and communications.
Services:
Media & Messaging
Managing effective communications programs for consistent messaging through printed publications, online presence and other outreach tools.
Legislative Campaigns
Planning and implementing strategic campaigns including grassroots and media outreach, coalition building and legislative efforts.
Strategic Outreach
Connecting partners for effective events, coalitions and conservation projects.
Analysis & Research
Providing policy analysis and research for conservation organizations at the local, state and federal level.
Meetings & Events
Coordinating meetings and events to maximize organizational and conservation issue exposure.
Publication
Writing and editing to clearly articulate complex scientific or policy issues targeted to various audiences.
Testimonials
Jeff Crane, President:

The Congressional Sportsmen's Foundation

What Jodi brings to the table is a unique combination of science background, political know-how and effective communication skills. She has a solid knowledge and understanding of the political process and how to get things done in Washington, DC. Her a …

Land Tawney, Executive Director:

Backcountry Hunters & Anglers

Jodi was such a pleasure to work with. Her attention to detail and deadlines, easy communication style, and can-do attitude was infectious. "Our Public Lands-Not For Sale" has received rave reviews from our membership, partner organizations, press, and …

Bruce Matthews, Executive Director:

North Country Trail Association

A consummate professional, Jodi is highly motivated to serve her constituency and carry on the mission. She is that rare combination of an individual who walks the walk as she talks the talk. It was always a great pleasure to serve or work with Jodi in …

Andrea Keller Helsel, Western Conservation Program Officer:

Hewlett Foundation

Jodi Stemler has a unique ability to inspire collaboration among disparate interests and get the best work out of partner organizations and volunteers. She has great relationships with reporters and advocates in the hunting and fishing community and an …

Sid Evans, Group Publisher:

Time Inc.

Jodi is a passionate advocate of conservation and the protection of natural resources, and she's also a media-savvy professional when it comes to events, communications, and partnerships. I hired her to do some work for Field & Stream and would hir …

Whit Fosburgh, President:

Theodore Roosevelt Conservation Partnership

We have worked with Jodi for years on projects as diverse as media campaigns, energy conferences, and VIP dinners and receptions. Jodi has done a tremendous job every time. Not only does she have the best contact list in the community, but her in depth …

Marc Pucket, Small Game Project Leader:

Virginia Department of Game & Inland Fisheries

Working with Jodi on the recent revision of our quail plan entitled "Setting Back the Habitat Clock" was a real pleasure. Her professionalism, good humor, insights and skills made the process enjoyable. The final product is outstanding. I always felt t …

Bill Brassard, Sr. Director Communications:

National Shooting Sports Foundation

Thorough, creative, problem-solver, well-connected and highly respected by her colleagues are qualities that describe Jodi. She has a talent for creating partnerships, knows her field and has excellent writing and editing skills. I highly recommend her …

Anthony Licata, Executive Editor:

Bonnier Men's Group

Jodi Stemler has been a terrific partner with Field & Stream for our conservation coverage and programs. She has a comprehensive knowledge of the issues and an extensive network of contacts. Her skills and strategic thinking are invaluable.

Jim Shepherd, Publisher:

The Outdoor Wire

I have had the pleasure to work with Jodi in a variety of different situations over the past several years. In each instance, she has proven to be outstanding. Her work is excellent, her attitude always positive and up-tempo, and she has raised the spi …
Read More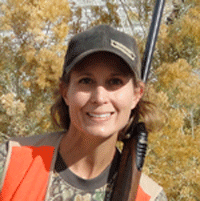 Without effective conservation of our land and wildlife resources, we won't have opportunities to enjoy the great outdoors. By playing a role on conservation issues, I know I am doing what I can to ensure we always have wildlife and wild places.
More About Me >